Watch the Video
Check out the video overview of the new data and capabilities added to Robling's free Store Reopening Analytics Application:
We've unfortunately seen a spike in Covid-19 cases in many different regions of the country. The situation in every locale is dynamic, and making decisions about when and how to reopen store locations continue to be challenging.
To help, the free Robling Store Reopening Analytics App has new data and capabilities that put more data and insights behind your reopening decisions. In response to requests from retailers, here's what's been added to the latest edition of the application:
Gauging the Potential for Store Traffic with Google Community Mobility Data
People are moving differently due to Covid-19. By analyzing movement trends over time – using Google Covid-19 Community Mobility Reports data – you can see whether the opportunity for retail sales is increasing or decreasing, and use those insights to inform your store reopening and merchandising decisions.
With Robling's Store Reopening Analytics App, you can now see this powerful data specific to your store locations, alongside all the other data the app provides. The app integrates two trendlines: the first for grocery & pharmacy traffic and the second for retail & restaurant traffic.

Google Covid-19 Community Mobility data is now integrated into the Robling Store Reopening Analytics App
In the chart above, for instance, you can see the pre-Covid baseline at the end of January, and how consumer behavior shifted. There's an initial spike in grocery and pharmacy traffic, and at the same time there's a dip in restaurants and retail. You then see grocery and pharmacy dropping off even though stores remain open.
Two major behaviors are at play here in the essential retail segments: 1) The shift to online shopping and grocery & pharmacy delivery 2) trip consolidation, with shoppers taking less frequent trips and exhibiting stock-up behavior on each trip.
In the retail and restaurant segments, the changes in behavior are of course the result of closures, the shift to online commerce, reduction in overall spending and other factors.
Would you like to learn more about how these changes in behavior correlate with your retail chain's specific sales, by channel, category, customer attributes or other factors? The Robling team can integrate your enterprise data into the application for a side-by-side view. Contact us at info@robling.io to learn more.
Staying on Top of Covid-19 Trends Near Your Store Locations
The number of new Covid cases each day is subject to a natural fluctuation, and there tends to be less reporting on the weekends. As a result, Covid data of new cases and new deaths tends to have the saw-toothed shape you can see in the blue line below.
Sometimes, these local minima and maxima can make it difficult to discern the trends, especially as you drill into locales that may have larger fluctuations and fewer data points.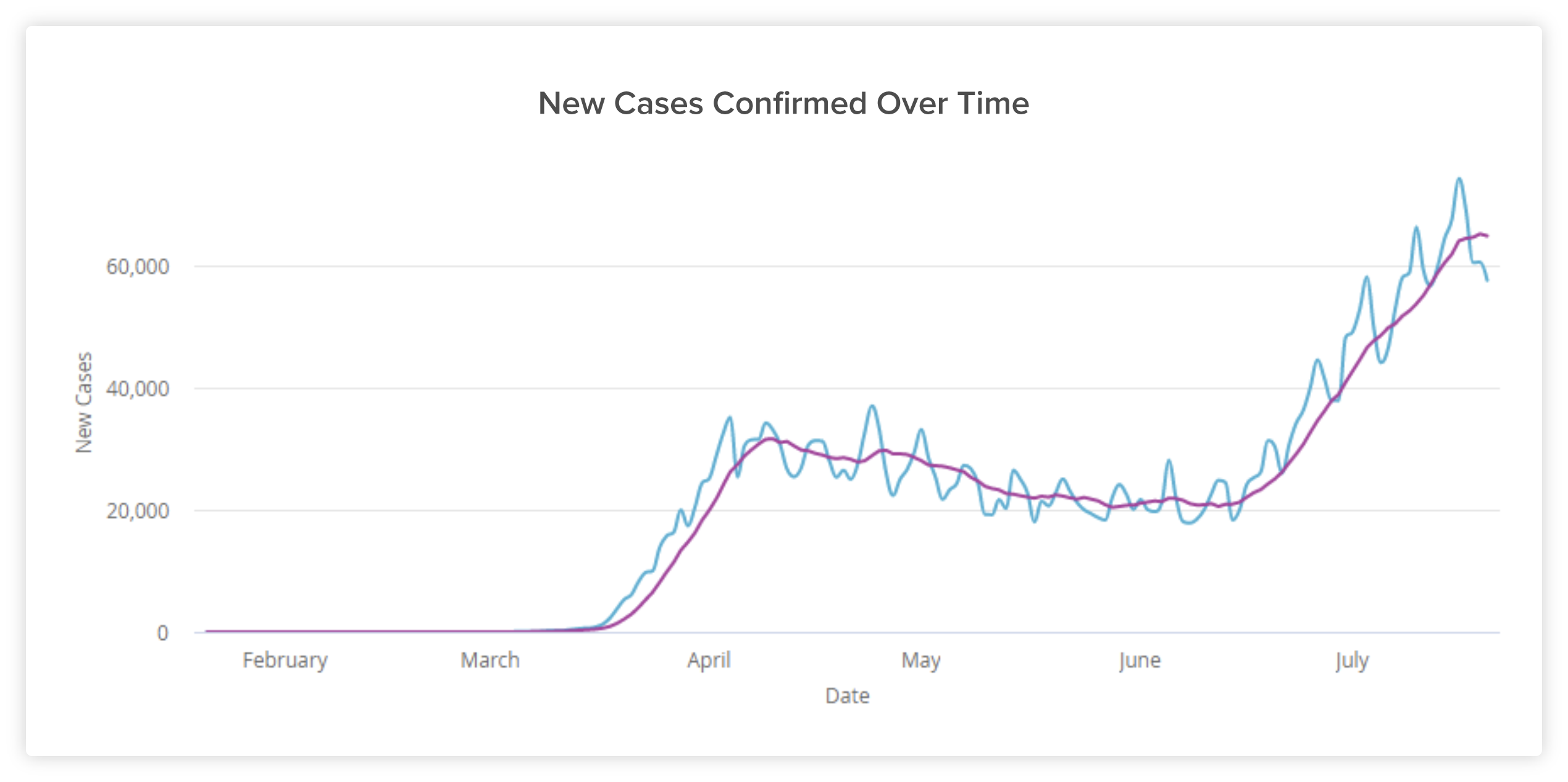 Charts now include a smoothed trendline based on a 7-day moving average of Covid-19 cases and deaths.
To make it easier, Robling's Store Reopening Analytics App now includes a smoothed trendline – shown in purple in the chart above – based on a 7-day moving average. This will make it easier for you to spot the trajectory of Covid cases near your store locations.
Analyze Covid-19 Trends Across All Your Retail Banners
Multi-banner retailers are experiencing differing customer behaviors across each of their banners. To analyze one, some or all of your banners at once, the app now includes the option to toggle on or off any of your banners within the Robling Store Reopening Analytics App.
Keep Your Feedback Coming
We're committed to helping retailers and your customers through Covid-19. Keep your feedback coming so we can enhance the Store Reopening App with the data and features that will help you the most.
Please send your questions, comments and feedback to info@robling.io.
If you or a retailer you love would like to gain free access to the application, click here.