Getting Back in Control: Mastering Exceptions
Back in the days of brick and mortar, conventional retailers had a hard time managing their data abundance. But now, the amount of valuable, actionable data is overwhelming. By their nature, traditional reporting concepts summarize performance information so much that they mask actionable opportunities and problems. Worse, traditional hierarchies typically make it cumbersome to summarize where the true action is such as brand, assortment, customer type, path to purchase, fulfillment option, promotion, etc.
Once again, your best people are forced into manual analytics processes to get a handle on the business. But when your most important analytics—the ones that measure your newest merchandise's performance, key customer segments, latest promotions, or new omnichannel processes (e.g. BOPIS)—are executed manually, your business is running you instead of you running the business. You go out of stock on hot sellers. You get hammered by markdowns. You fail to remedy a kink in the customer experience. You process returns all over the place bloating inventory.
In the face of data abundance, users are leaving themselves ignorant of thousands of high value anomalies to drive remedial or opportunistic processes. Amazon isn't willing to tolerate this level of blindness. In their world, when trends are detected, they jump on it. A big part of Amazon's success is in how they detect and respond to anomalies that signal unique process shortcomings and opportunities.
Achieving Analytics Maturity in Multichannel Retail
For multichannel retailers, the first step is to get to a place where you're not putting all your effort into figuring out what happened in you business. Rather, your analytics systems are providing you a near-real-time view of business performance. Then, they're telling you which are the biggest problems and opportunities you need to address today. Rather than engaging in data gruntwork, your teams spend your their time optimizing the approach to nipping problems in the bud and maximizing returns on identified opportunities.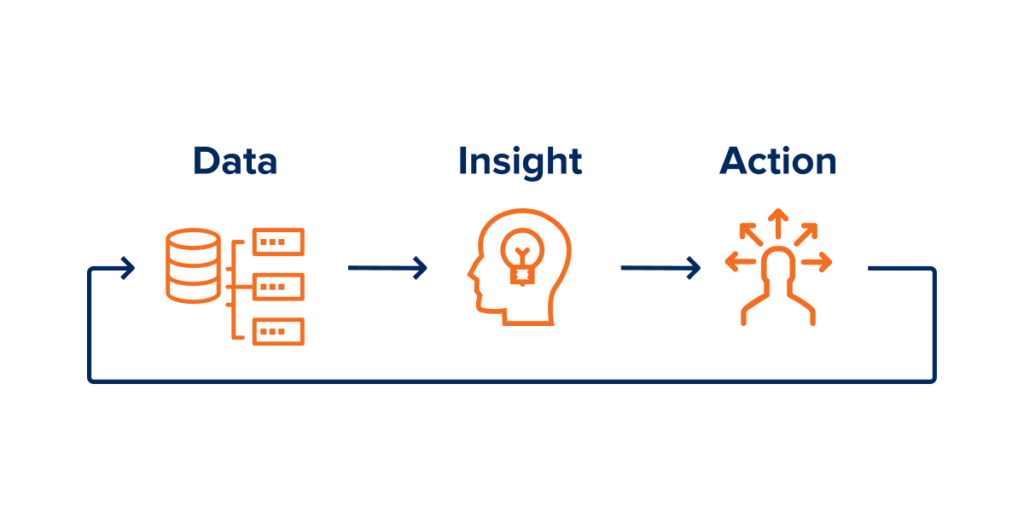 Clearing the Biggest Roadblock
So how do you get there? The answer most likely lies with your analytics infrastructure. Legacy analytics systems aren't cut out to handle the modern merchandising world. Their data models and infrastructure never contemplated the number of systems, variety of data, and complexity of processes spanned by your customers' modern purchase journey. Nor did these legacy analytics systems contemplate the variety and complexity of questions that your new business demands you ask and answer.
Modern retail analytics systems, however, are designed for today's omnichannel retailers. They bring the data models, information hierarchies, prebuilt metrics, KPIs and exception detection infrastructure required to compete and win in the digital-first retail world.
Recommendations
As multichannel retailers endeavor to compete effectively with the Amazons of the world, it is imperative to think of analytics infrastructure as the equalizer, the weapon, the field leveler. Because of their narrower focus, and ability to engage with customers across both physical and digital touchpoints, multichannel retailers have a clear opportunity to know more about their customers than Amazon does about its own. This can only happen with an analytics infrastructure for today's digital dynamics. It's time to move on from the aging analytics infrastructure.
---
Jeff Buck is the CEO and cofounder of Robling. Robling helps retailers become truly data-driven organizations with its purpose-built retail data as a service (DaaS) solution hosted on Snowflake's powerful, elastic low-cost cloud platform. With Robling DaaS, retailers can unlock net-new value by unifying and operationalizing data across merchandising, e-commerce, customer and supply chain systems. Robling customers include Belk, Fresh Thyme and Hot Topic.